HEALTHCARE BUSINESS ANALYST
Are you passionate about medical insurance, project management tasks to boost the efficiency and profit of medical facilities by assessing their data management, financial activities, and services and want to be part of a medical provider team. This career path is best for you. A minimum of a bachelor's degree in Business Administration, Healthcare Management, Pharmacy or a related field is generally required for this designation. At Qtech, we strive to achieve your career goals and make you a successful.
Healthcare Business
Healthcare Business means (a) the provision, administration or arrangement of health care services, worker's compensation insurance, related ancillary products or both directly or through an HMO, a provider, a regulated healthcare service contractor or any other business which in the ordinary course provides, administers or arranges for such services, products or both, (b) the provision, administration or arrangement of health, life and related insurance, (c) the management of health care services (including medical management claims services and management through medical information services), and (d) any business activities related and incidental to any of the foregoing.
QTECH-SOL TRAINING PROGRAMS
We offer following healthcare business analyst programs.
| CHECK YOUR BEST FIT PROGRAM | APPLY FOR SCHOLARSHIP |
| --- | --- |
| Take a quick quiz to know the best | You could qualify for Institutional |
| career pathway that meet your education background and experience | Scholarship or Discount coupons. |
| Try Out Now | Apply |
THE ROLE OF HEALTHCARE BUSINESS ANALYST
A Healthcare Analyst is in charge of evaluating medical data to improve the business part of hospitals and medical facilities. Also known as Healthcare Data Analysts, these highly-analytical professionals prepare status reports, create record-keeping processes, and assess data from different sources. Healthcare Business Analysts may regather information, review findings and explore potential solutions.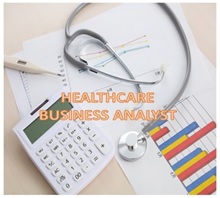 Business Analysts may use computer software and mathematical models in conjunction to test variables, like the effects of minimizing overtime on the quality of patient care. After the models have been adequately evaluated, Business Analysts choose the best fit and prepare to execute a solution or Healthcare policy.
Job titles you can apply after training
Managed Care Analyst
Healthcare Business Analyst
Financial Analyst – Healthcare
Vendor Management
Compliance Specialist
Claims Recouncilation
Healthcare Policy Manager
Healthcare Report Specialist
Healthcare Data Analytics
Business System Analyst
Data Quality Assurance
Insurance Data Specialist